KIHEI BEACH, #303
---
1 Bedroom
1 Bath
Beachfront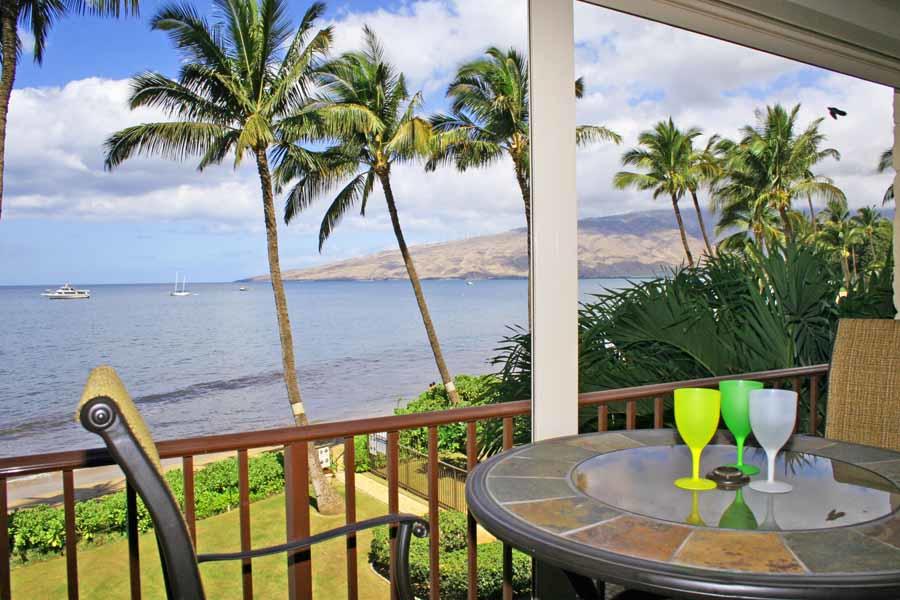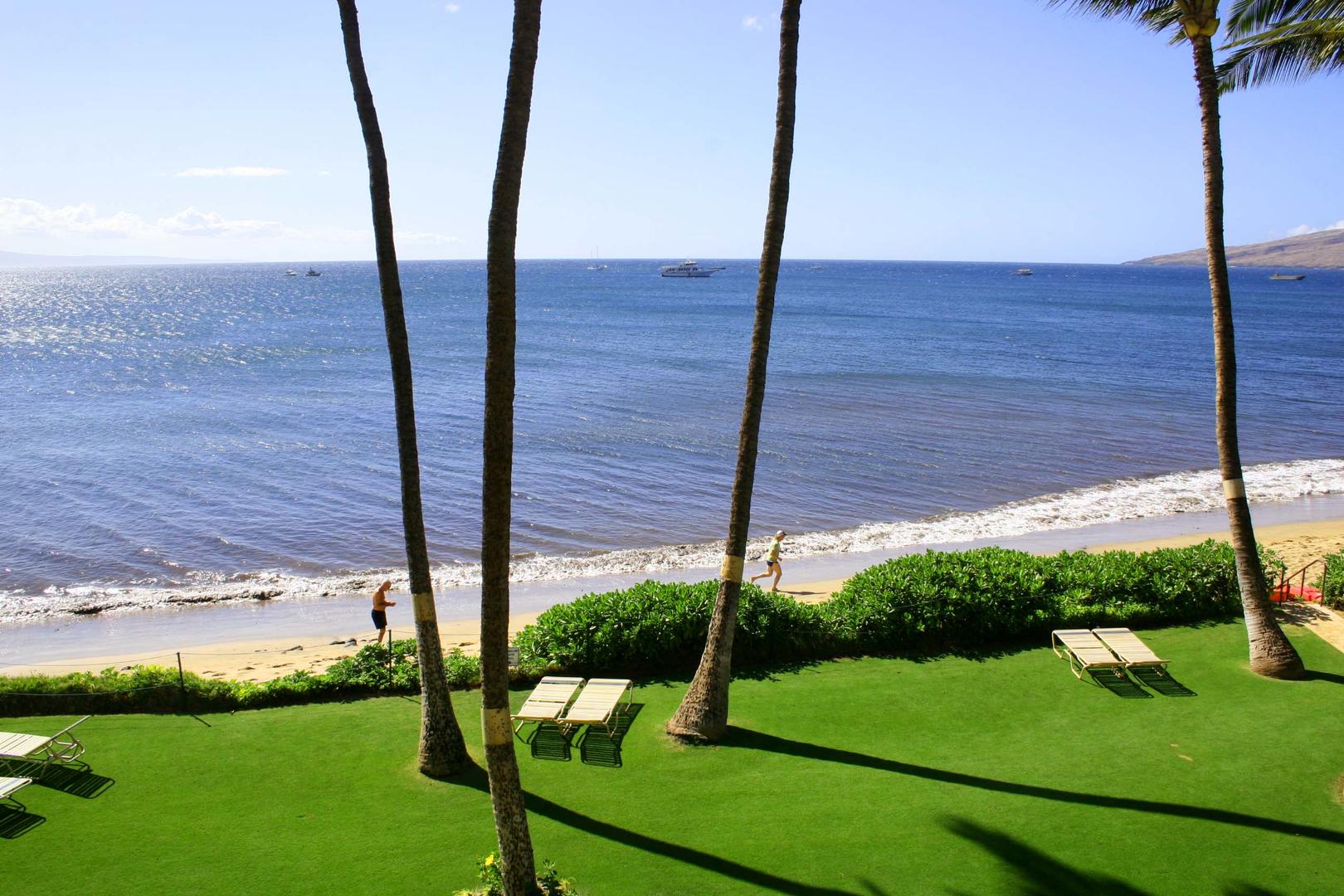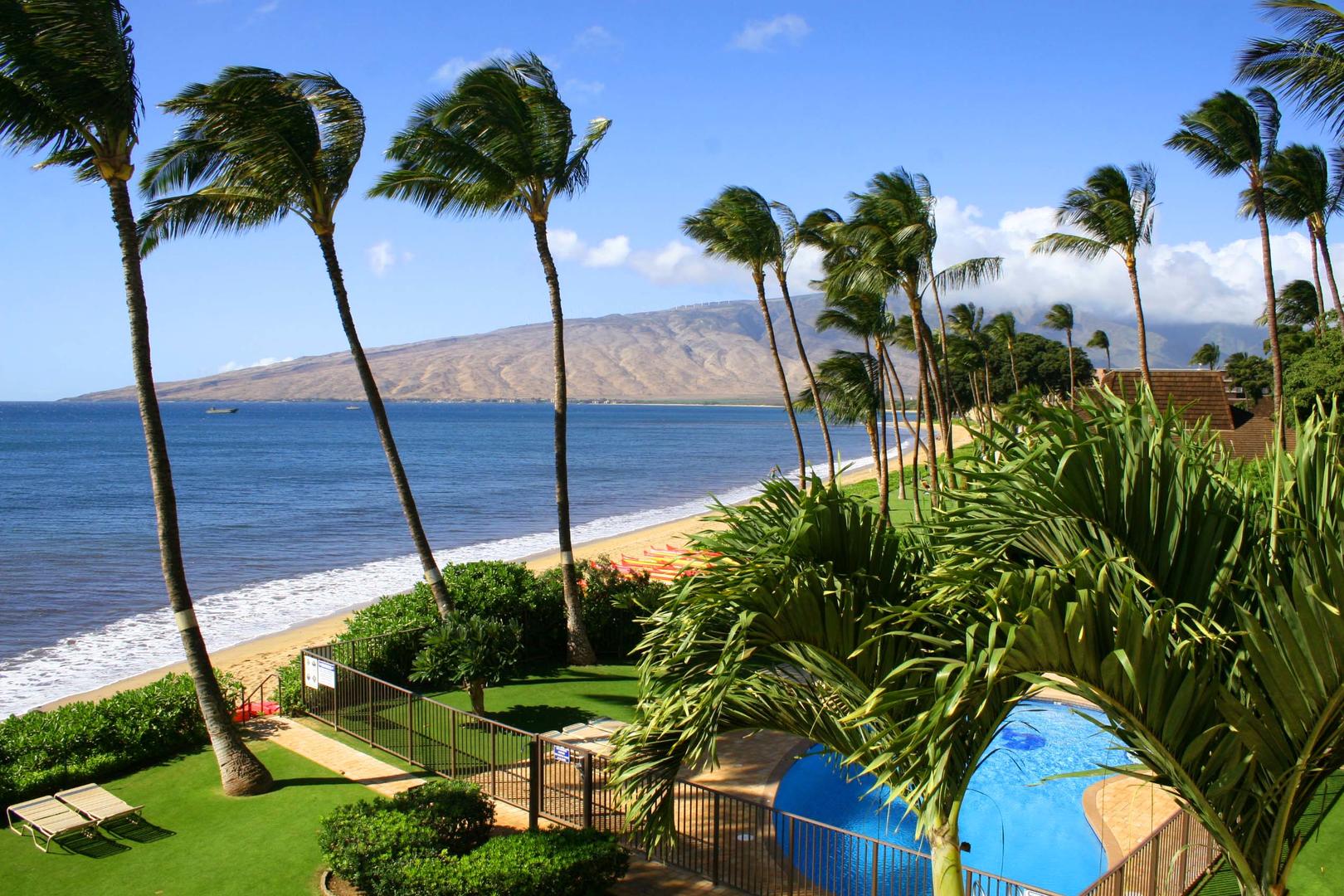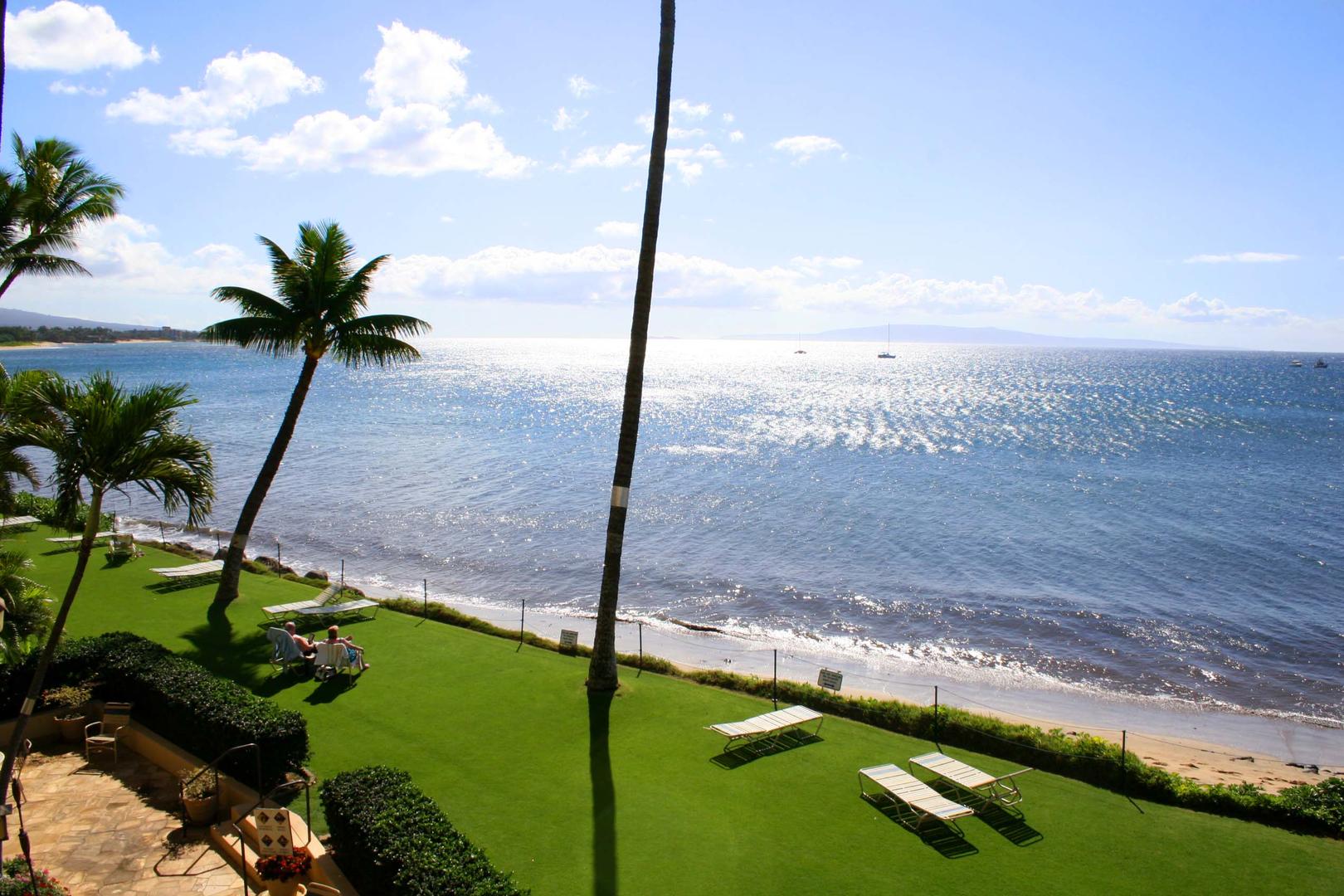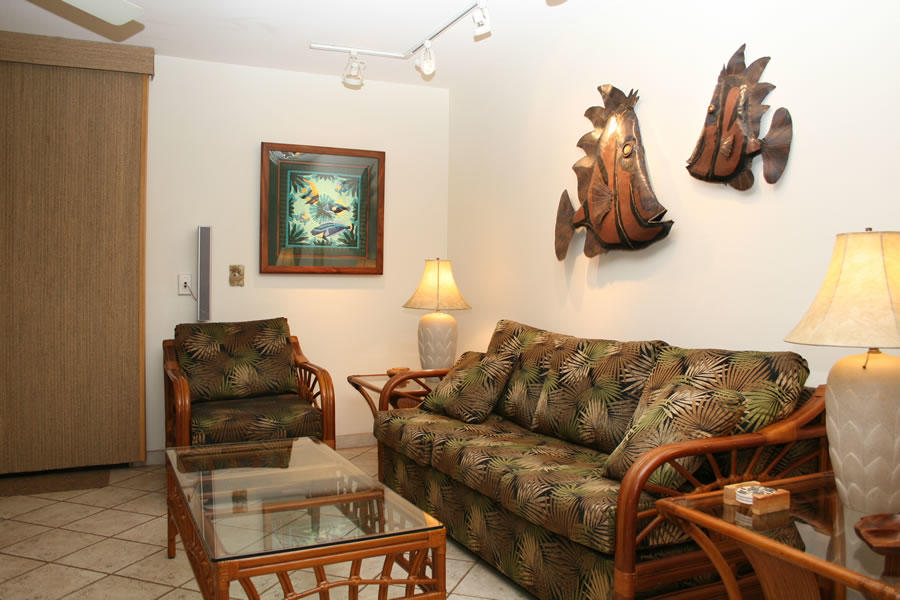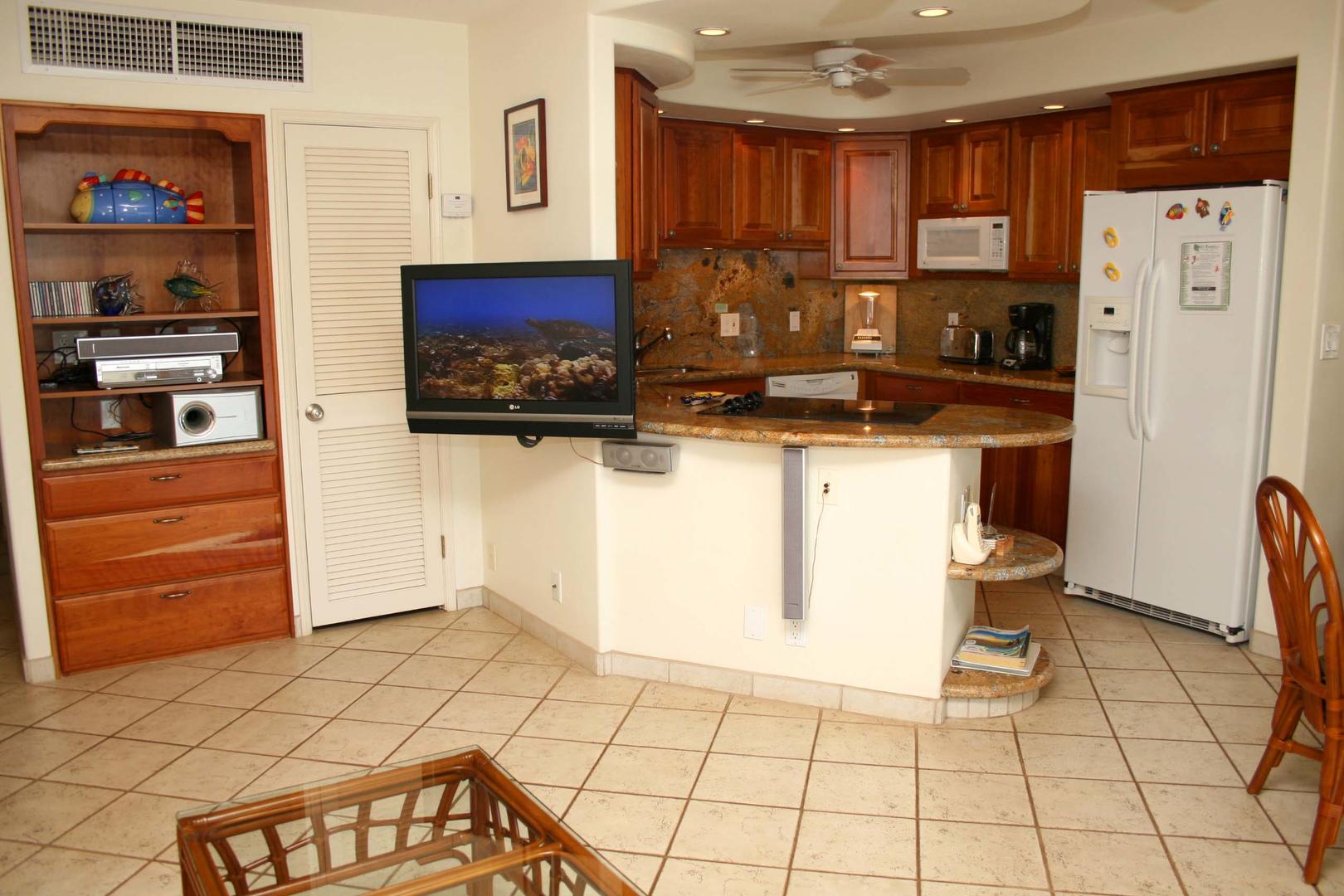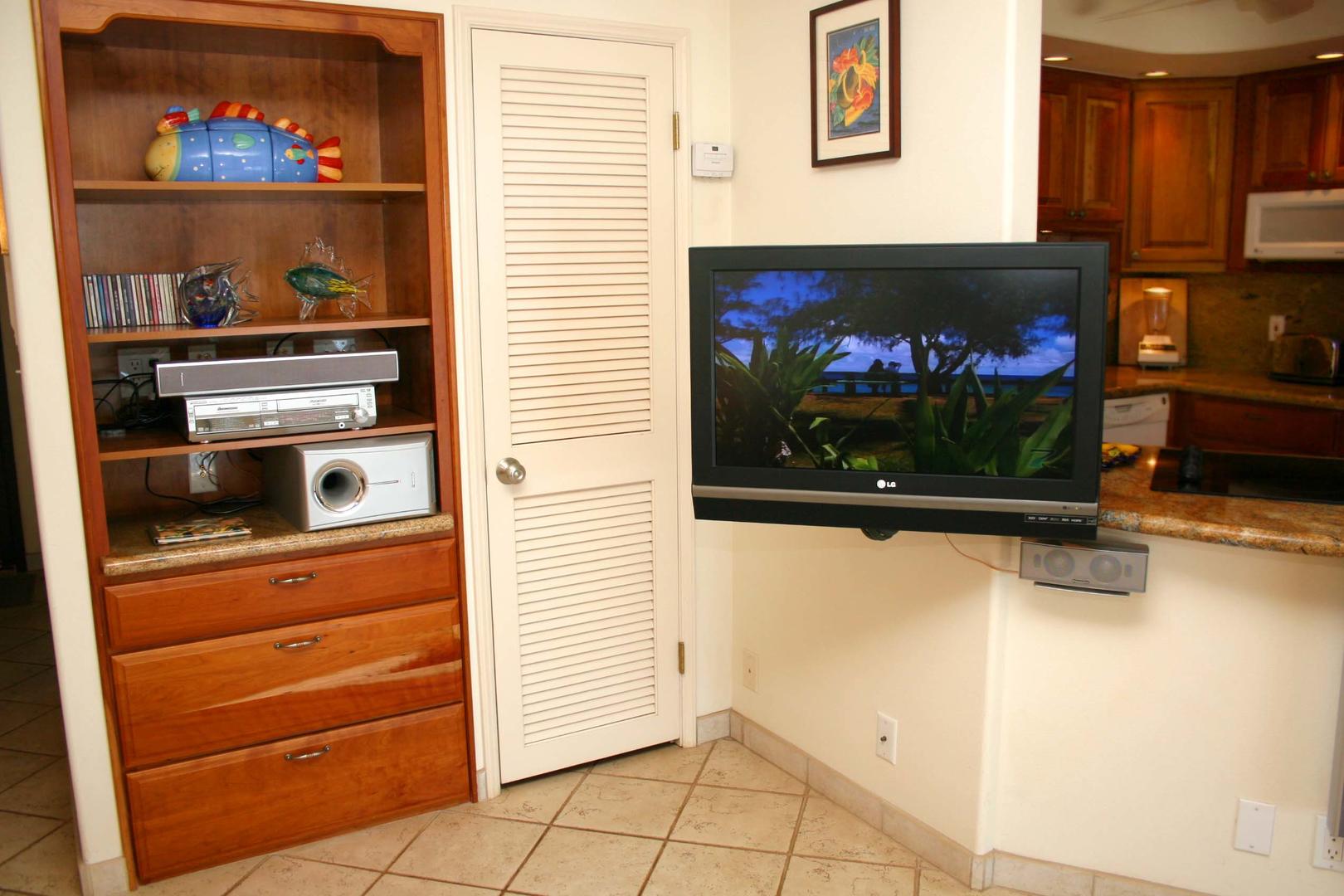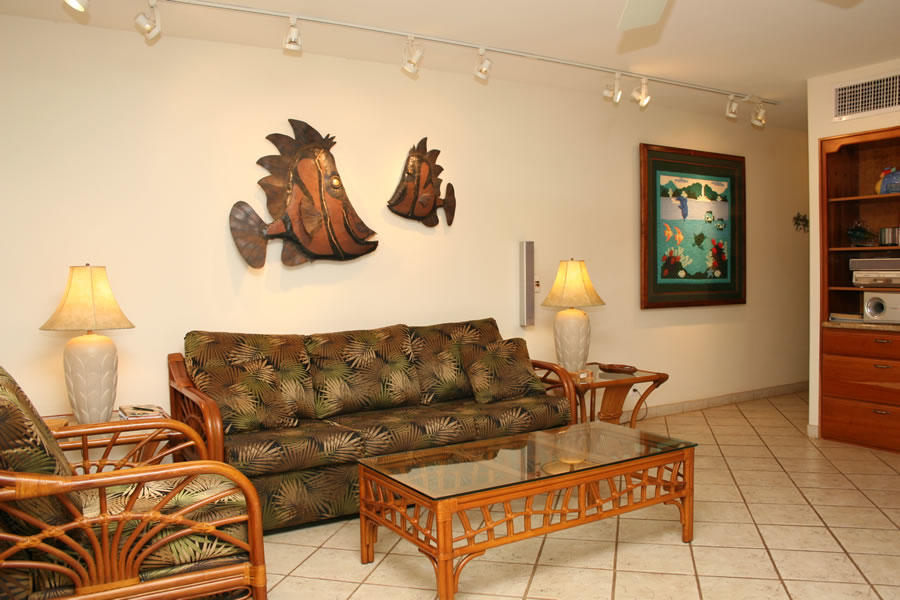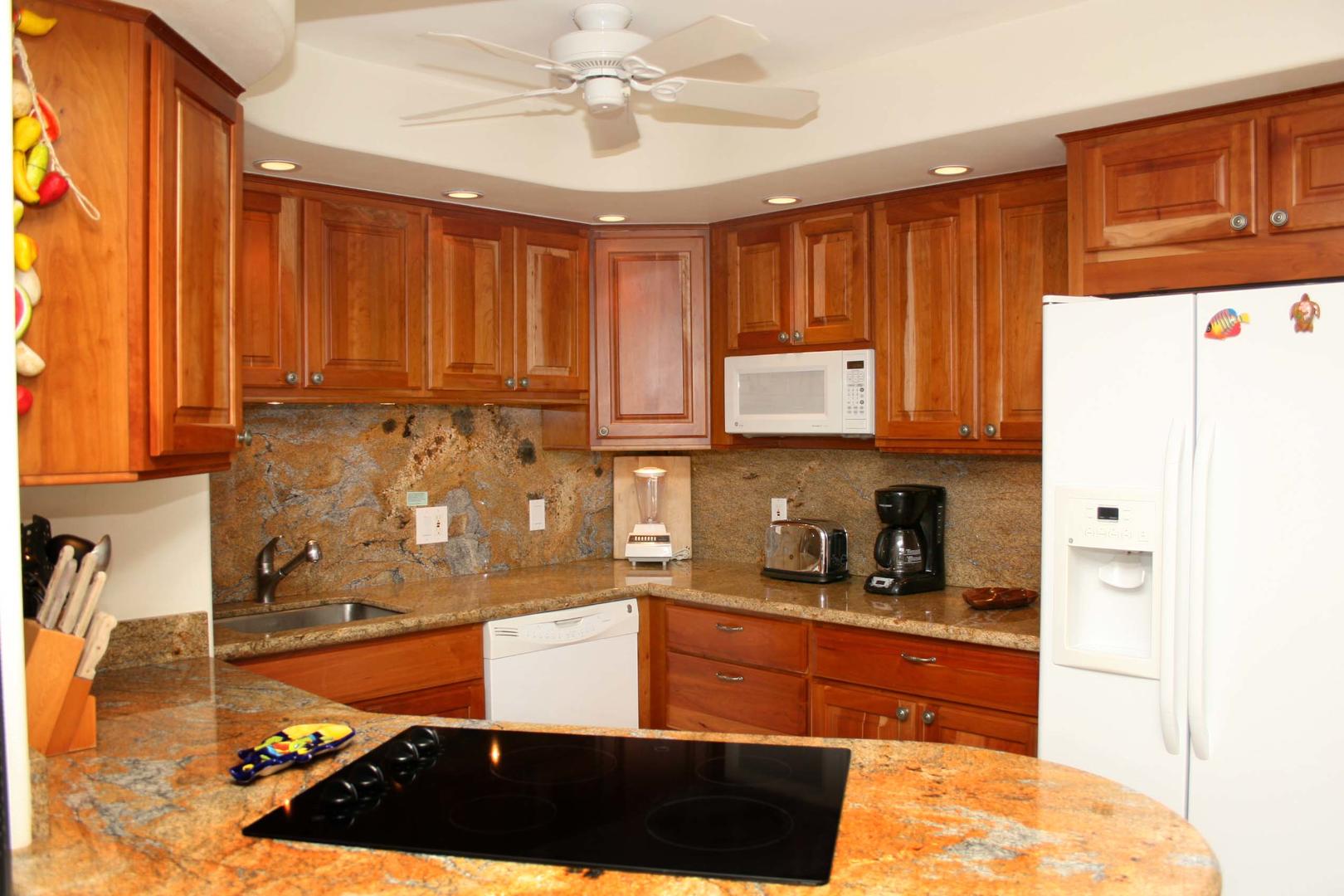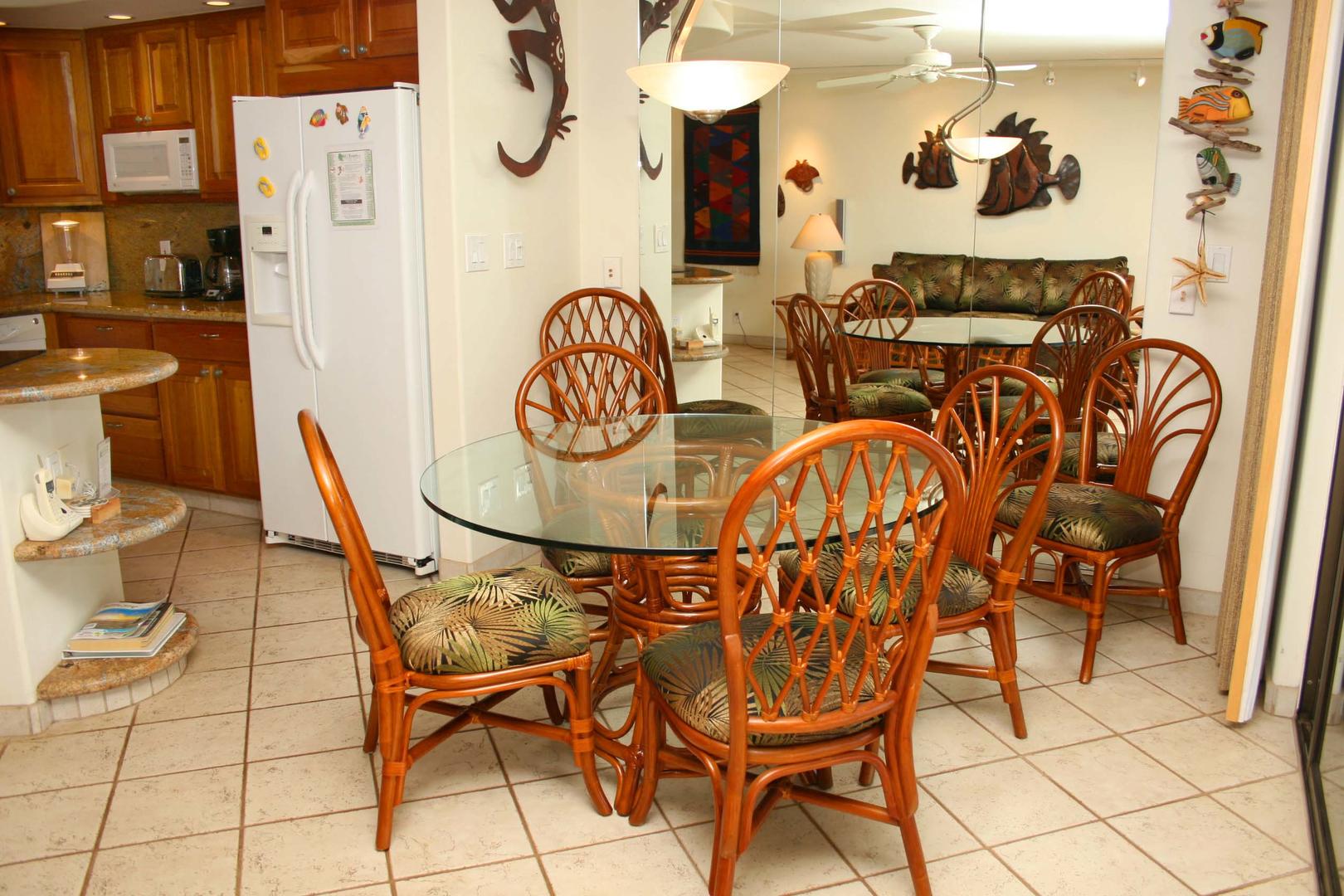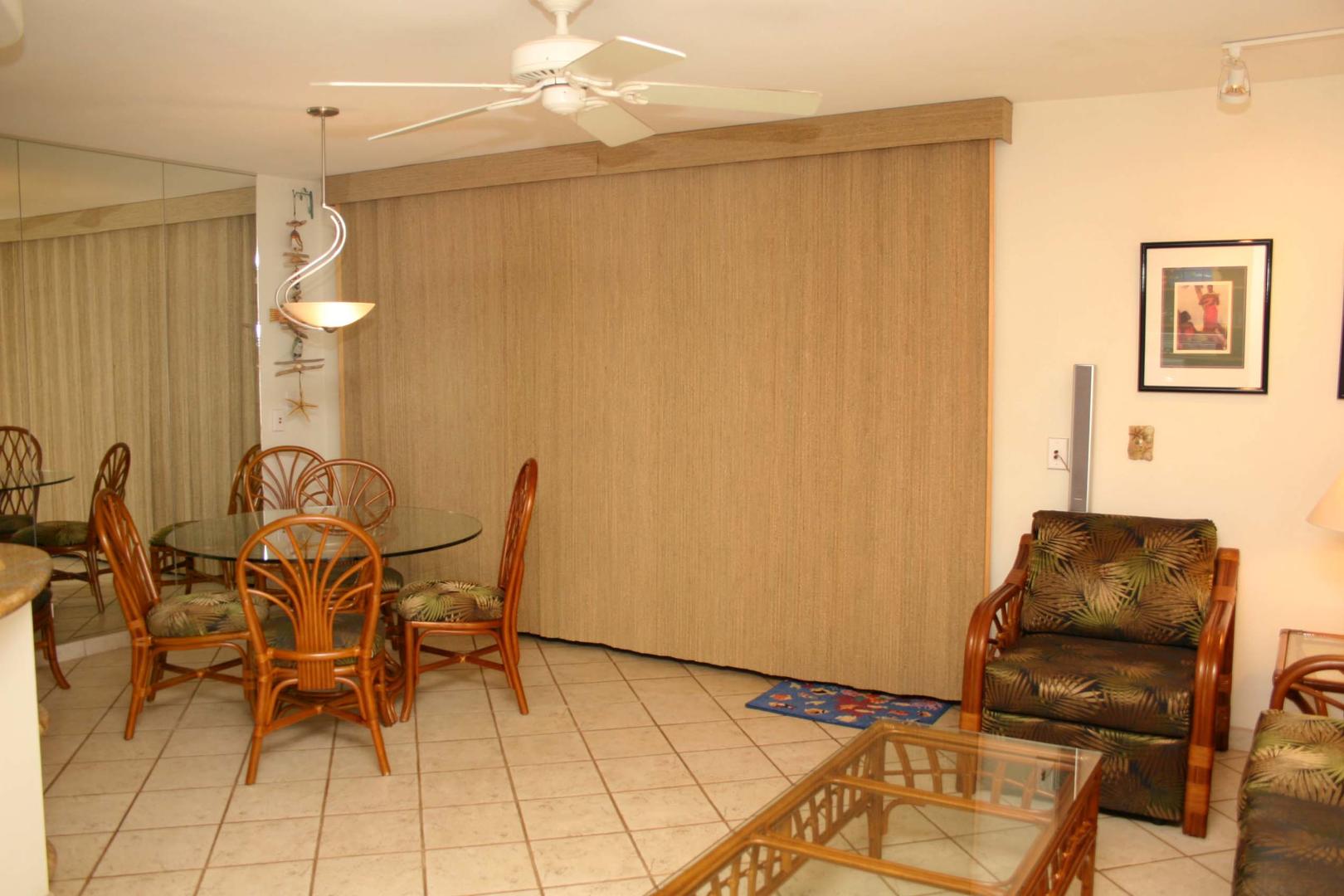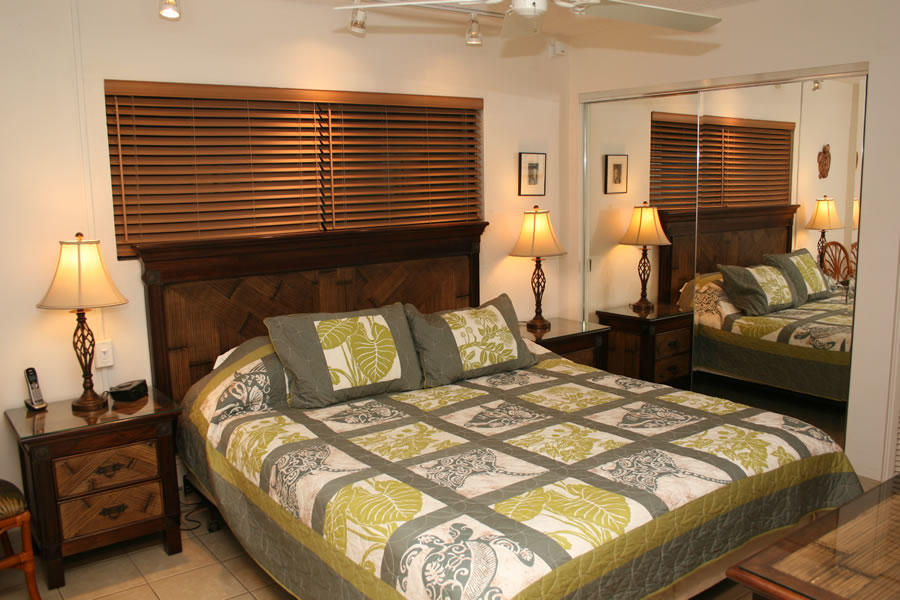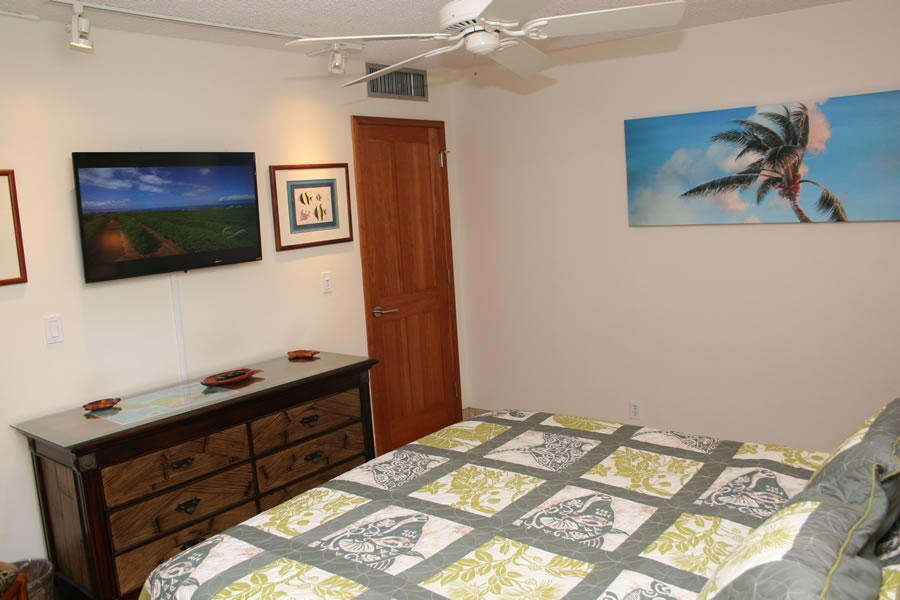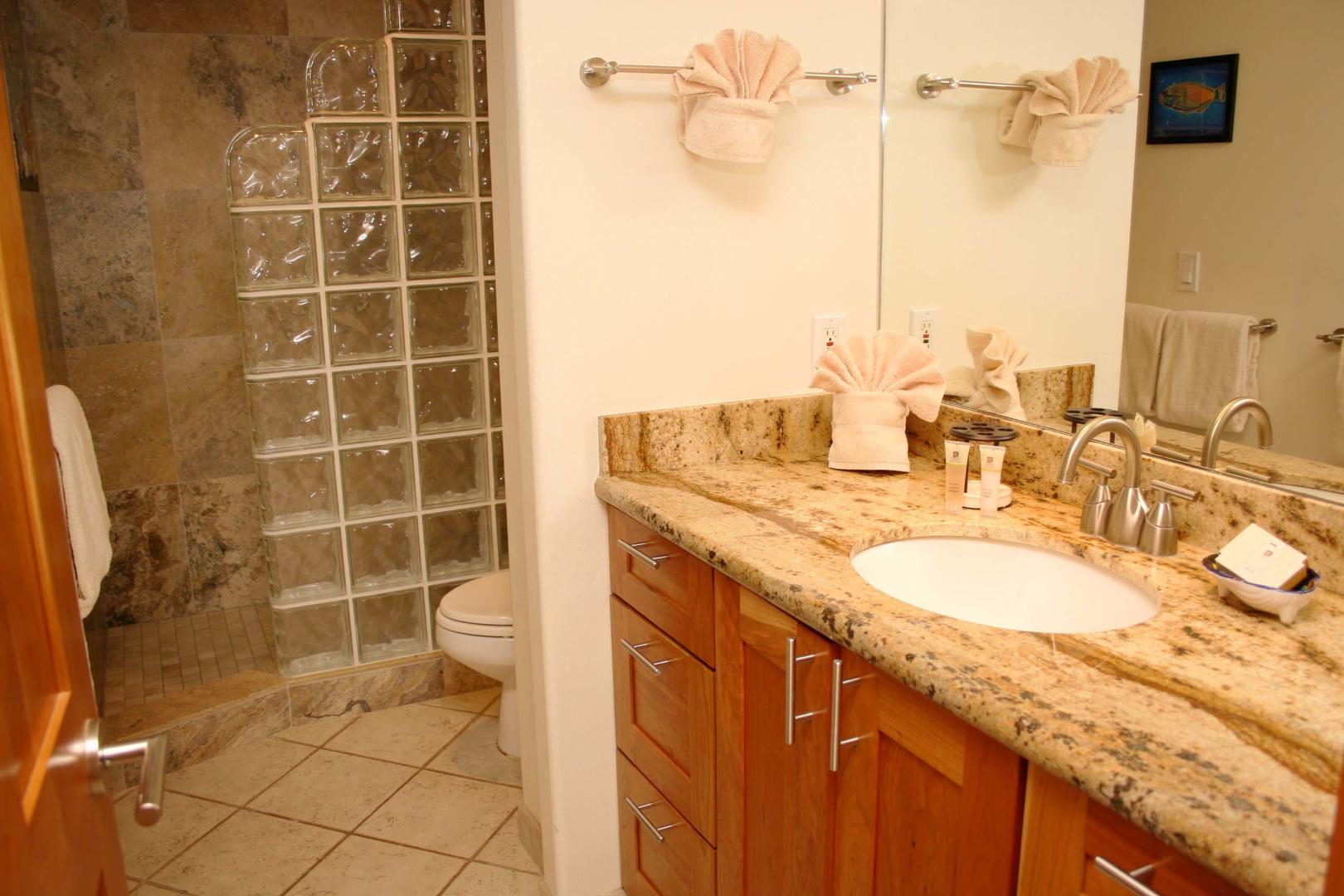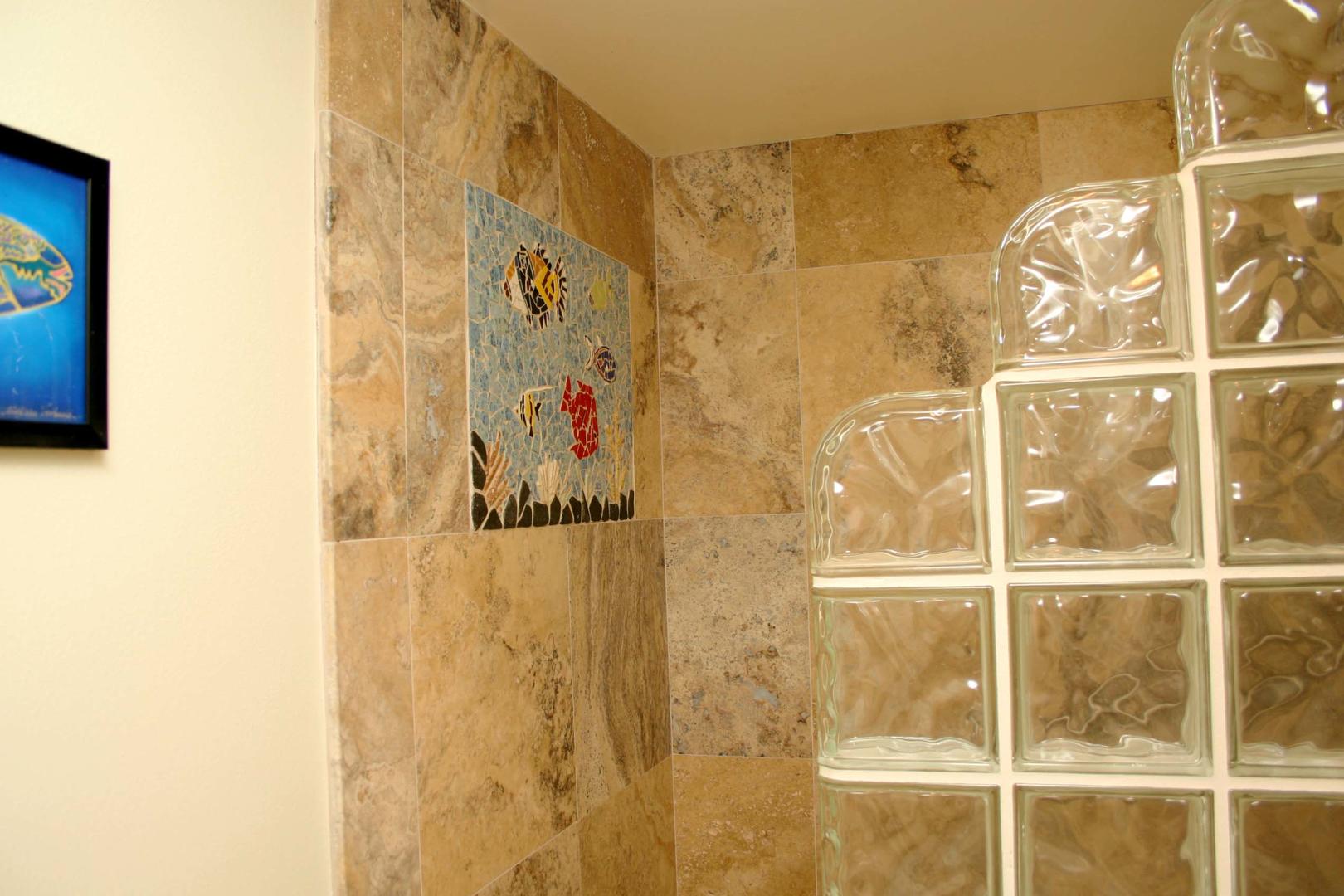 Kihei Beach is a moderately sized six story beachfront property located in North Kihei. It offers sweeping views of Kahoolawe, Molokini and the dazzling Pacific Ocean and a friendly casual atmosphere. Fronting the property is Sugar Beach, well known for its romantic sunsets, great swimming, miles of unspoiled strolling beach and seasonal whale watching. Kihei Beach offers central air conditioning, oceanfront pool area, gas barbecues, laundry facilities and free parking. The interiors include fully equipped kitchens, cable television, free local phone service, private lanais, complimentary high-speed internet service and luxury linens supplied directly by Ali'i Resorts.
A Note from the Owner: Kihei Beach #303 is warm and comfortable, with a newly-remodeled kitchen that's fully equipped, newly-remodeled living room and bathroom, a mosaic underwater scene from a local artist from "up-country" Makawao, colorful tapestries of birds and fish (including the reef trigger, aka Humuhumunukunukuapuaa), a flat-panel TV with 5.1 surround sound, a stash of 60's-80's CD's, solid wood bedroom and bathroom doors, and other amenities to make you feel at home yourselves.
We've also included easy-to-use high-speed wireless (and wired) internet access -- for free. Please take advantage of the reference books while you are here, but kindly be sure to leave them for the next guest!
Availability
January 2020

| S | M | T | W | T | F | S |
| --- | --- | --- | --- | --- | --- | --- |
| | | | 01 | 02 | 03 | 04 |
| 05 | 06 | 07 | 08 | 09 | 10 | 11 |
| 12 | 13 | 14 | 15 | 16 | 17 | 18 |
| 19 | 20 | 21 | 22 | 23 | 24 | 25 |
| 26 | 27 | 28 | 29 | 30 | 31 | |
February 2020

| S | M | T | W | T | F | S |
| --- | --- | --- | --- | --- | --- | --- |
| | | | | | | 01 |
| 02 | 03 | 04 | 05 | 06 | 07 | 08 |
| 09 | 10 | 11 | 12 | 13 | 14 | 15 |
| 16 | 17 | 18 | 19 | 20 | 21 | 22 |
| 23 | 24 | 25 | 26 | 27 | 28 | 29 |
March 2020

| S | M | T | W | T | F | S |
| --- | --- | --- | --- | --- | --- | --- |
| 01 | 02 | 03 | 04 | 05 | 06 | 07 |
| 08 | 09 | 10 | 11 | 12 | 13 | 14 |
| 15 | 16 | 17 | 18 | 19 | 20 | 21 |
| 22 | 23 | 24 | 25 | 26 | 27 | 28 |
| 29 | 30 | 31 | | | | |
April 2020

| S | M | T | W | T | F | S |
| --- | --- | --- | --- | --- | --- | --- |
| | | | 01 | 02 | 03 | 04 |
| 05 | 06 | 07 | 08 | 09 | 10 | 11 |
| 12 | 13 | 14 | 15 | 16 | 17 | 18 |
| 19 | 20 | 21 | 22 | 23 | 24 | 25 |
| 26 | 27 | 28 | 29 | 30 | | |
May 2020

| S | M | T | W | T | F | S |
| --- | --- | --- | --- | --- | --- | --- |
| | | | | | 01 | 02 |
| 03 | 04 | 05 | 06 | 07 | 08 | 09 |
| 10 | 11 | 12 | 13 | 14 | 15 | 16 |
| 17 | 18 | 19 | 20 | 21 | 22 | 23 |
| 24 | 25 | 26 | 27 | 28 | 29 | 30 |
| 31 | | | | | | |
June 2020

| S | M | T | W | T | F | S |
| --- | --- | --- | --- | --- | --- | --- |
| | 01 | 02 | 03 | 04 | 05 | 06 |
| 07 | 08 | 09 | 10 | 11 | 12 | 13 |
| 14 | 15 | 16 | 17 | 18 | 19 | 20 |
| 21 | 22 | 23 | 24 | 25 | 26 | 27 |
| 28 | 29 | 30 | | | | |
July 2020

| S | M | T | W | T | F | S |
| --- | --- | --- | --- | --- | --- | --- |
| | | | 01 | 02 | 03 | 04 |
| 05 | 06 | 07 | 08 | 09 | 10 | 11 |
| 12 | 13 | 14 | 15 | 16 | 17 | 18 |
| 19 | 20 | 21 | 22 | 23 | 24 | 25 |
| 26 | 27 | 28 | 29 | 30 | 31 | |
August 2020

| S | M | T | W | T | F | S |
| --- | --- | --- | --- | --- | --- | --- |
| | | | | | | 01 |
| 02 | 03 | 04 | 05 | 06 | 07 | 08 |
| 09 | 10 | 11 | 12 | 13 | 14 | 15 |
| 16 | 17 | 18 | 19 | 20 | 21 | 22 |
| 23 | 24 | 25 | 26 | 27 | 28 | 29 |
| 30 | 31 | | | | | |
September 2020

| S | M | T | W | T | F | S |
| --- | --- | --- | --- | --- | --- | --- |
| | | 01 | 02 | 03 | 04 | 05 |
| 06 | 07 | 08 | 09 | 10 | 11 | 12 |
| 13 | 14 | 15 | 16 | 17 | 18 | 19 |
| 20 | 21 | 22 | 23 | 24 | 25 | 26 |
| 27 | 28 | 29 | 30 | | | |
October 2020

| S | M | T | W | T | F | S |
| --- | --- | --- | --- | --- | --- | --- |
| | | | | 01 | 02 | 03 |
| 04 | 05 | 06 | 07 | 08 | 09 | 10 |
| 11 | 12 | 13 | 14 | 15 | 16 | 17 |
| 18 | 19 | 20 | 21 | 22 | 23 | 24 |
| 25 | 26 | 27 | 28 | 29 | 30 | 31 |
November 2020

| S | M | T | W | T | F | S |
| --- | --- | --- | --- | --- | --- | --- |
| 01 | 02 | 03 | 04 | 05 | 06 | 07 |
| 08 | 09 | 10 | 11 | 12 | 13 | 14 |
| 15 | 16 | 17 | 18 | 19 | 20 | 21 |
| 22 | 23 | 24 | 25 | 26 | 27 | 28 |
| 29 | 30 | | | | | |
December 2020

| S | M | T | W | T | F | S |
| --- | --- | --- | --- | --- | --- | --- |
| | | 01 | 02 | 03 | 04 | 05 |
| 06 | 07 | 08 | 09 | 10 | 11 | 12 |
| 13 | 14 | 15 | 16 | 17 | 18 | 19 |
| 20 | 21 | 22 | 23 | 24 | 25 | 26 |
| 27 | 28 | 29 | 30 | 31 | | |
Available
Unavailable
Check-In Only
Check-Out Only
Air Conditioning: Central A/C
View From Condo: Beachfront
Area: North Kihei
Nearest Beach: Sugar Beach
Master Bedroom Bedding: King
Guest Bedroom Bedding: No
Third Bedroom Bedding: No
Keyless Access: Yes
Maximum Guest Capacity: 4
Also Features
Non-Smoking Vacation Rental: -1
Sleep Cap: 4
Baths: 1.00
Bedrooms: 1
Location: Beachfront
Housekeeping: Weekly (14 nt min.)
Sofa Bed: Yes
WalkToBeach: Yes
Pool: Non-Heated
Floor Level: 3
Elevator: Yes
Safe: Yes
Wireless Internet: Yes
Sofa: Yes
Bedroom TV: Master
Check-in time is 3:00pm / Check-out time is 11:00am.
Valid identification and matching valid accepted credit card required at the time of check-in.
Confirmed reservations will receive a letter of confirmation with a reservation number.
All units are non-smoking and pets are not permitted.
Rates are subject to change.
All rates are subject to 14.42% Hawaii State GE/TA Tax and are based on Standard Occupancy.
A 3-night deposit is required at time of booking for reservations under 28 nights. (Check deposits within 7 days of booking. All payments must be in US Dollars.) A 25% deposit is required at the time of booking for reservations of 28 or more nights. Final payment for 28+ night stays is due 120 days before arrival.
Additional cleaning fees will be added for stays less than 5 nights, when applicable.
Guest is responsible for the effects of changes in exchange rate and all fees. Refunds will not be issued due to exchange rate changes.
Full prepayment is due 60 days prior to arrival (90 days for Christmas/New Year's bookings, 120 days for stays of 28+ nights). Your final payment will be automatically charged to the credit card on file on the appropriate due date unless auto-charge is declined.
All reservations are subject to a Guest Service Fee that may include but are not limited to applicable cleaning and resort fees.
An Early Check In or Late Check-Out may be available at 50% of non-discounted daily rate.
Christmas/New Year's reservations are not subject to normal discounts and minimum nights are required based on unit size. A 10 night minimum is required on 1 bedroom units and a 14 night minimum is required on 2 and 3 bedroom units.
Long-Stay Reservations: Any stay 28 nights or longer requires a deposit equaled to 25% of the total value of the reservation. Final prepayment is due 120 days prior to arrival.
Cancellation Policy: A fee of 10% of the gross rent or $200, whichever is greater, will be assessed for cancellations received 60+ days prior to arrival (90+ days for Christmas/New Year's, 120+ days for Long-Stay). For cancellations received within 60 days of arrival (90 days for Christmas/New Year's bookings, 120 days for stays of 28+ nights) or after arrival date, payments will be retained. If the space can be re-rented, a pro-rata refund will be issued for reservations paid in full.
Approved refunds will be remitted via check only and mailed to the address on file.
Standard Occupancy is the base number of persons allowed per dwelling unit based on standard bedding and restrictions. 1-Bedroom (2 people), 2-Bedroom (4 people), 3-Bedroom (6 people). Additional person(s) charge of $20 plus tax per person per night above standard occupancy using standard bedding to a maximum occupancy of: 1-Bedroom (4 people), 2-Bedroom (6 people), and 3-Bedroom (8 people). Children 12 and under are free (extra person fee does not apply), but are counted towards maximum occupancy.
Ali'i Resorts, LLC is not responsible for childproofing accommodations.
Accidental Property Damage Waiver: Accidental Property Damage Waiver affords protection to guests for accidental breakage or damage to the individual rental home up to a maximum of $1000. Damage must be reported by the guest to the Ali'i Resorts office prior to departure. Damage not reported by guests will not be covered by Accidental Property Damage Waiver and the guest will be responsible for any damages incurred. Cost is $40 + tax and is non-refundable. This waiver protection is added to the rent unless guests optout/decline protection in writing on Rental Agreement. If you choose to deny the damage waiver, you will be charged a refundable $400 cash security deposit.
Ali'i Resorts, LLC is not responsible for the retrieval and return of lost and found items.
Guest is responsible for all phone charges exceeding local standard service and/or additional ordered cable charges.
All guests are required to complete the registration form within 24 hours of arrival with Ali'i Resorts, LLC and, if required, register with the property. Failure to complete the registration form may result in immediate eviction.
Owner and /or Ali'i Resorts, LLC and /or hired vendors of Owner/Alii Resorts, LLC may enter property with 24-hour notice to tenants occupying unit (except during scheduled cleanings and emergencies) to perform necessary repairs or maintenance, inspect unit or show unit, if necessary.
Ali'i Resorts, LLC reserves the right to change your condominium accommodation due to repairs, condo owner use and acts of God. If this should happen, Ali'i Resorts, LLC will make efforts to provide you with another condominium of equal or greater value at the same rate you were paying, or refund the difference for a lower rate condominium, or allow cancellation of your reservation without a cancellation penalty.
Guests and other parties involved with the reservation, including but not limited to, travel agents or online travel agents, hereby agree to verify all reservation details including, but not limited to, the accuracy of the rate, applicable fees, condominium complex, and condominium unit number specified in the reservation confirmation. Ali'i Resorts, LLC is not responsible for any third party's failure to display or provide current photos of the property or for variation in 3rd party posted rates. All 3rd parties are advised to and are responsible for posting accurate rates. Alii Resorts, LLC does not control, nor is responsible for any 3rd party booking site fees. The most current photos are located at www.AliiResorts.com